Line 10:
Line 10:

==Connecting to a demo server==

==Connecting to a demo server==

After installing the MSP Challenge client on your computer, you'll find a shortcut to it in your Start menu. Click to start it and then click on the 'play' button:

After installing the MSP Challenge client on your computer, you'll find a shortcut to it in your Start menu. Click to start it and then click on the 'play' button:

[[File:1.png|alt=|380x380px]]

[[File:1.png|alt=|380x380px]]





---
Revision as of 12:04, 23 March 2020
In this page you will learn how to:
Connect to a demo server
Connect to a online session
Create your own online session
About demo servers
Our demo servers are suitable for demonstration purposes only (so not full-on sessions) as they are accessible to anyone anywhere in the world and reset themselves daily. If you'd like your own server, then either install one yourself (coming soon) or get in touch with BUas to use one of theirs.
Connecting to a demo server
After installing the MSP Challenge client on your computer, you'll find a shortcut to it in your Start menu. Click to start it and then click on the 'play' button: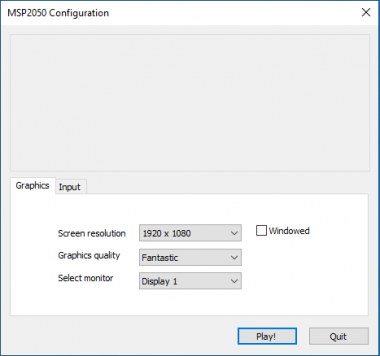 2. Click on the 'demo' tab: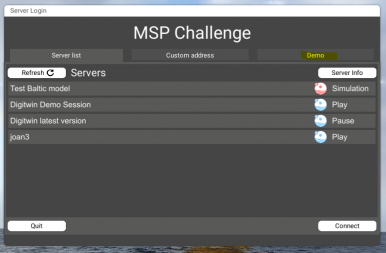 3. Select the version you want to try, clicking on the 'connect" button: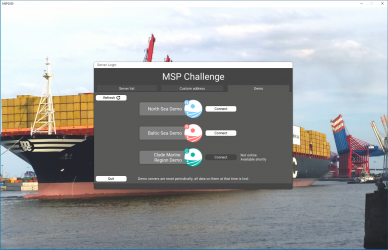 4. Select one team and log-in: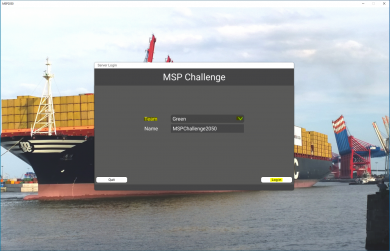 5. Play allong in the simulation platform, if you need some guidance to start from, please check our tutorials.
Connecting to another server
After unpacking and installing the client on your computer, double-click on the executable to open the client, select the online session you want to join and press 'connect':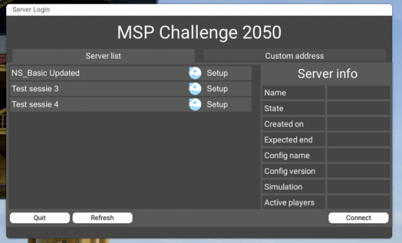 Starting a new self-hosted session
Video Coming Soon
Connect to a self-hosted session
Video Coming Soon
This page was last edited on 23 March 2020, at 12:04. Content is available under
GPLv3
unless otherwise noted.